DONKEY-HIKING
Do you love animals and would you like to discover and enjoy the beautifully intact countryside of the Alentejo? Then we would like to invite you to go on one of our donkey hikes through green meadows and lush fields in the famous Caneja valley.
Activity plan:
Together with us you will prepare your donkey for the hike and load him with your own picnic (that you have brought with you). Two participants lead together one donkey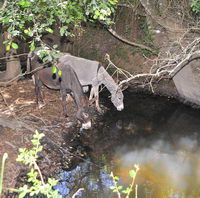 and are responsible for him during the entire excursion. As most of our donkeys are either pregnant or have foals we will be accompanied by their young ones and will enjoy their antics and playful behavior.
On warm days we will refresh ourselves at the stream and enjoy our picnic in the shade of large trees whilst the donkeys peacefully graze. Back at the Castelo-do-Burro we will bring our donkeys back to the stable, feed them and then take our leave.
The entire hike takes approximately 2˝ hours and is intended for a group of up to 6 persons and costs 120 Euros. A group of 7 to 12 persons costs 240 Euros. Please book your hike directly with us.