DONKEY-RIDING FOR CHILDREN
At Castelo-do-Burro you can book an hour of donkey-riding for your children.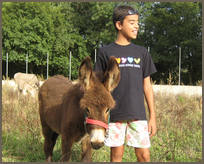 Having spent some time becoming familiar with the donkeys, we will take you on a gentle walk under tall shady trees along the banks of the "Caneja" streamlet. Up to 3 children may ride alternately whilst we lead the donkeys and a parent walks alongside and holds the child for safety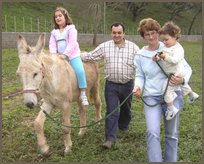 reasons.
It is also possible to take a second donkey for larger groups, we will however need the support of two adults from the visiting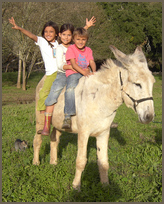 party. The body weight of a rider should not exceed 40 kg.
Following the ride there will be ample opportunity for you to take some great family photos for your album.
Please make an advance booking. Cost per donkey per hour amounts to 60 Euros.