ABOUT CASTELO-DO-BURRO

The donkey stud Castelo-do-Burro was founded in 2001 and is located at a small tributary of the river "Mira".
This all-year water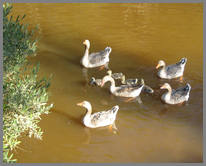 leading brook "Caneja", on whose banks high trees form a picturesque hem, flows around the lovely 10 hectare large property. It consists of a valley with a castle, a pond, some pastures, an orchard and a vegetable garden, as well as a hill, covered with old cork oaks, on witch the chapel thrones.
The stables and enclosures were adapted according to the needs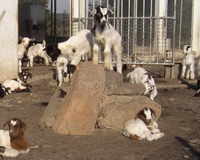 of the respective animal species.
The formally of thorns and thistles overgrown property was cultivated in the past years but although the renovation of some buildings is not jet completed, the concept of a bio-ecological farm is already been realized.
At the donkey stud, with a stallion and a dozen breeding mares, each year an average of 4 foals are born. They are suckled 6 to 8 month by the mother mare and than they get sold. Besides, there are also enclosures with lamas and exotic animals, a herd of dwarf goats, the FCI-registered breed of the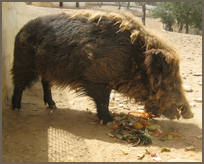 famous guard dog "Rafeiro do Alentejo" as well as the little mini-dog named "Tibetano". A pony and miscellaneous poultry make the farm complete.
Particularly noteworthy is the harmonious coexistence of different species in direct contact with each other. Even small, all the young ones are trained in a playful way to practice a respectful handling with the other species, and so they take it as a matter of course.
In addition to the sale of the offspring, Castelo-do–Burro offers donkey-riding for children, guided farmvisits and donkey-hiking, as well as from next year a holiday house for guests to recover.